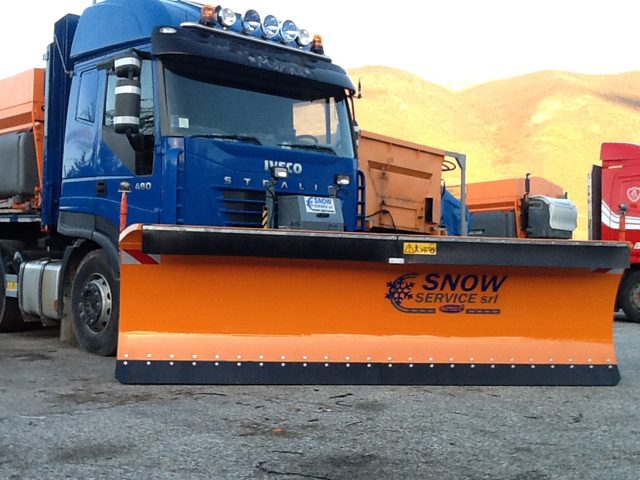 Snowplow suitable for snow plowing operations on highways and airports and designed to fit trucks with GVW > 100 quintals and agricultural tractors with a horsepower category range larger than 130 hp and weight range > 60 quintals.
The SRA-5 XL plow is completely made of high-strength steel and is equipped with quick coupling DIN plate, in compliance with the DIN 76060/A standards (optional feature - DIN attachment plate (1200 x 600 mm) equipped with 4 mechanical bolts). The front blade is made of n° 1 independent sector with cutting edges in wear resistant steel for the SRA-5 XL version; and n° 2 side blades of 800 mm with hydraulic opening/closure for the SRA-5 XXL version.
The SRA-5 XL snowplow for highways and airports snow removal is equipped with a shock-absorbing system controlled through a pair of hydraulic cylinders for the forward/backward movements of the blade combined with a nitrogen accumulator.
Side mechanical stops in the positions of maximum inclination (in order to provide the hydraulic inclination cylinder protection). Central mechanical system that enables a transverse pitch angle of + 5°, with automatic horizontal locking of the equipment lifted from the ground while in motion. Painted with special anti-rust treatment and final paint RAL 2011 (orange). Overpressure valve in case of side impact, R2 pipes with fittings and unified quick couplings.
Mode of operation of the SRA-5 XL snowplow for highways and airports snow removal
Hydraulically driven, through hydraulic cylinders for the left/right tilt movements and lifting/lowering procedures and n° 2 pistons to manage and set the forward/backward movements of the blade, that set the correct inclination of the cutting edges, hydraulic legs to attach the snowplow. The SRA -5 XL plow is also equipped with N. 2 double-effect cylinders to attach/remove the 2nd Neoprene cutting edge; n° 2 double-effect cylinders to control the opening/closure movements of the side blades for the SRA-5 XXL snowplow.
Power supply
24 Volt electro-hydraulic power unit installed, on request (optional), on the DIN plate of the snowplow. As an alternative option, a special hydraulic system installed on the vehicle.
Handling settings
Control of the plow by means of the electric push-button panel, with cable of appropriate length, and of the electro-hydraulic unit.
For further information on the SRA-5 XL snowplow for highways and airports snow removal and for a custom-made offer do not hesitate to directly contact us or fill the "Contact" form on this page!