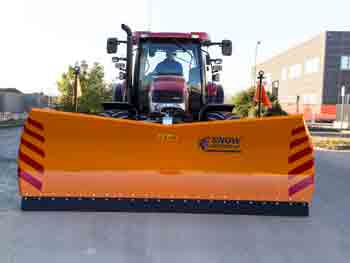 Snowplow designed to fit trucks with GWV > 100 quintals and agricultural tractors with a horsepower category range larger than 90 hp and weight range > 45 quintals.
Mode of operation
Hydraulically driven, through hydraulic cylinders for the left/right tilt movements and lifting/lowering procedures
Power supply
24 Volt electro-hydraulic power unit installed, on request (optional), on the snowplow. As an alternative option, a special hydraulic system installed on the vehicle (one or two double-effect distributors required, one with a floating position).
Handling settings
Control of the plow by means of the electric push-button panel, with cable of appropriate length, and of the electro-hydraulic unit. As an alternative option, commands already present on the vehicle if equipped with a special hydraulic system (ex. agricultural tractor).
Accessories: standard version
Warning poles, parking legs, nitrogen accumulator, overpressure valve on the right/left tilt circuit and steel wear resistant cutting edge, shock-absorbing system on the lower cutting edges thanks to the lower bumpers, n°. 2 orientation cylinders, n°. 1 lifting cylinder.
Optional features
DIN attachment plate with central ring (1200 x 600 mm) equipped with 4 mechanical bolts, side-marker lights, pivoting and adjustable in height slides, pair of additional lights with support on the DIN plate, electro-hydraulic control unit equipped with cable and push-button panel, steel curved lift bolted on the upper part of the snowplow, rubber splashguard, bipolar electric cable with protection fuse to connect the control unit to the battery of the vehicle
For further information on the D1S-5 snowplow - swiveling plow for trucks and for a custom-made offer do not hesitate to directly contact us or fill the "Contact" form on this page!