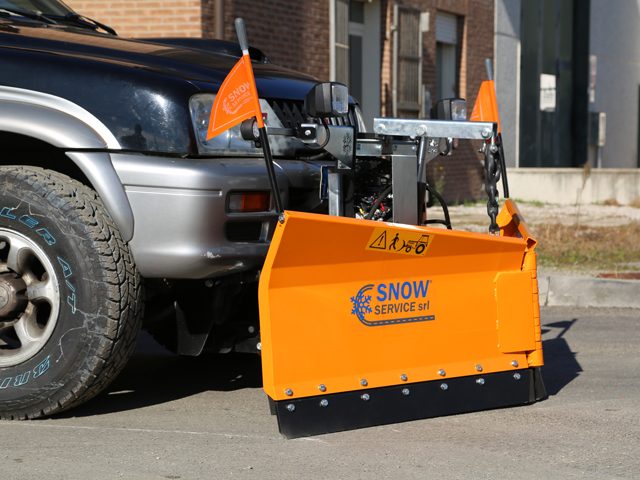 V-shaped plow designed to fit pick-ups and vehicles of medium/low power range with a GVW > 3.5 T. Completely made of high-strength steel and equipped with quick hitch plate for easy attachment. Central blade body made of steel curved metal sheets and independent external wings hinged on it. Cutting edge in wear resistant steel or, on request, in Neoprene. Shock absorbing system by means of Neoprene fenders installed between the blade and the cutting edge.
Mode of operation of the plow for pick-up
Hydraulically driven, through N. 2 hydraulic double-acting cylinders for the opening/closure movements on the blades and N. 1 cylinder for the lifting movement.
Power supply
12V/24 Volt electro-hydraulic power unit installed on the snowplow.
Handling settings
Control of the plow by means of the electric push-button panel, with cable of appropriate length to be installed in the cabin. As an alternative option, possibility to install a radio-controlled power unit (wireless).
Accessories standard version – V-plow for pick-up
Warning poles, electro-hydraulic power unit with push-button panel, high beams, parking legs, steel wear resistant cutting edge.
Optional features
Radio-controlled power unit, Neoprene cutting edges.
For further information on the PKV – V shaped plow for pick-up and for a custom-made offer do not hesitate to directly contact us or fill the "Contact" form on this page!