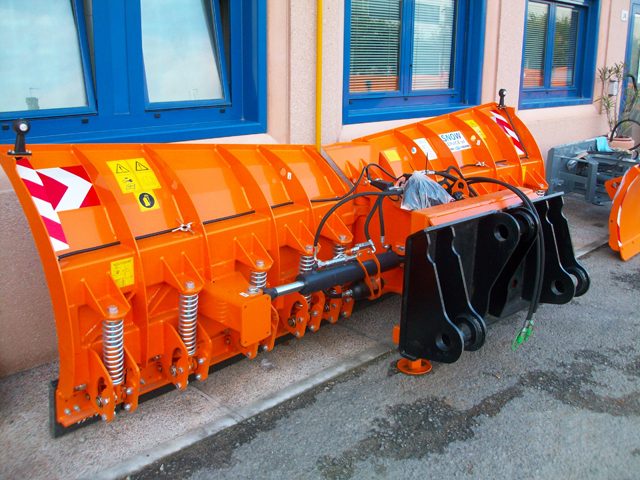 The LTL – LTH – light V-shape snowplow with transformable blade is designed to fit trucks with a GVW range from 80 to 150 quintals and agricultural tractors with horsepower range between 70 and 250 hp and weight range 90 hp and weight ≤ 40 quintals.
Completely made of high-strength steel and equipped with quick hitch plate for easy attachment complying with the standards DIN 76060/A, or, as an alternative option, a front 3-point hitch lift system for the agricultural vehicles. The front blade is made of N. 2 steel sectors. Cutting edge made of N. 2/4 independent sectors, available in stainless steel or in Neoprene.
The LTL – LTH – light V-shape snowplow with transformable blade is equipped with a shock-absorbing system made of steel springs on every sector of the cutting edge; obstacle overcoming system with complete forward overturning of every single blade sector and immediate return to the vertical working position once the obstacle is overcome. Painted with special anti-rust treatment and final paint RAL 2011 (orange). Overpressure valve in case of side impact, R2 pipes with fittings and unified quick couplings. The LTL transformable snowplow modes: "V" mode, blade inclined completely to the right or left, and reverse wedge (scoop mode).
Mode of operation of the LTL - LTH - light V-shape snowplow
Hydraulically driven, through hydraulic double-acting cylinders for the right/left inclination movements and for lifting/lowering procedures. Floating position
Power supply
By means of the hydraulic system installed on the vehicle.
n°1 double acting distributor for the 3-point hitch version (the snowplow is equipped with electro valve with push-button panel);

n°2 double acting distributors for the version with DIN plate if equipped with a hydraulic system (e.g. Agricultural tractor).
Handling settings
Control of the plow by means of the electronic push-button panel and of the electro valve installed on the snowplow. As an alternative option, commands already present on the vehicle if equipped with a special hydraulic system (ex. agricultural tractor).
Accessories standard version
Parking legs, overpressure valve on the right/left tilt circuit, wear resistant steel cutting edge, electro valve with push-button panel (only for the version with 3point hitch lifting attachment), side fenders in metal sheets, cutting edge in neoprene or steel.
Optional features
Adjustable in height slides, pivoting and adjustable in height wheels, work lights.
For further information on the LTL – LTH – light V-shape snowplow and for a custom-made offer do not hesitate to directly contact us or fill the "Contact" form on this page!