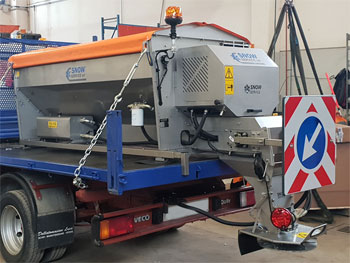 Steel salt spreader designed to fit trucks with GVW ≤ 60 quintals. Load-bearing frame, spreading disc, tail and hopper made of AISI 304 stainless steel. AISI 316 stainless steel honeycomb salt conveyor belt. Hydraulic gearmotor to start up the salt traction system and orbital hydraulic motor to start up the spreading disc.
Mode of operation of the SPR 400 spreader for trucks
Hydraulically driven, by means of a purpose-built system on the vehicle, or, as an alternative option through the hydraulic system actuated by the auxiliary engine installed on the salt spreader.
Accessories standard equipment SPR 400 spreader for trucks
Internal screening grid, hydraulic system ready to be connected to the hydraulic power source already existent on the vehicle, IP 68 12/24V electric system, flashing lights and rear work light, bipolar cable for the battery connection, ECOMATIC WKF electric push-button panel, gearmotor with encoder sensor on the salt hydraulic engine, hydraulic engine spreading disk, safety microswitch on the spreading tower, emergency push-button, metal cover protection for the hydraulic block, manual spreading pattern asymmetry.
Optional features
Diesel or petrol auxiliary engine for independent running, GPS push-button panel and tachymetric for the automatic spreading, PVC tarpaulin cover, mandatory road sign "keep left" with arrow, asymmetrical spreading kit controlled from the push-button panel, low salt level sensor with warning light on the push-button panel, external vibrator controlled from the push-button panel, parking feet with crank, fixing kit on the vehicle, red work light.
For further information on the SPR 400 spreader for trucks and for a custom-made offer do not hesitate to directly contact us or fill the "Contact" form on this page!