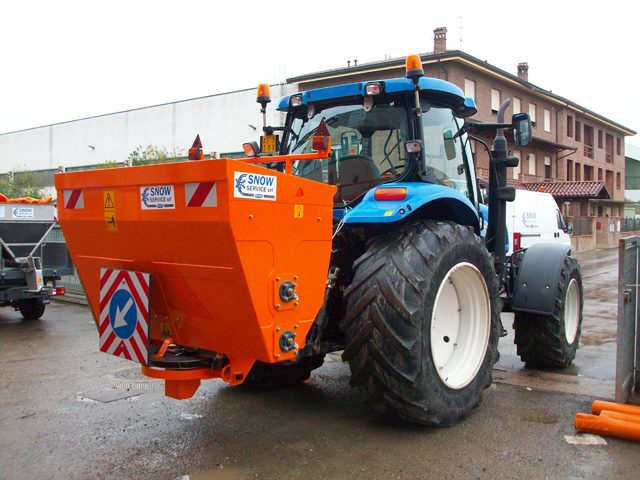 Self-loading spreader for agricultural tractors, wheel loaders, operating machines. Hopper, main frame, auger and crusher shaft made of high-strength steel. Stainless steel spreading disc. Load-bearing frame equipped with 2 hydraulic cylinders to operate the self-loading function. Painted with special anti-rust treatment and final paint RAL 2011 (orange). R2 pipes with bayonet male ½" fittings and unified quick couplings.
Mode of operation of the SPR K2 spreader for agricultural tractors
Hydraulically driven, by means of the hydraulic power system of the vehicle. For the standard version needed 3 double effect distributors, while for the version with optional features, with push button panel code 5310004, one double effect distributor is enough. It is always possible to set the quantity of deicing material and the spreading width.
Accessories standard version SPR K2 spreader for agricultural tractors
3-point hitch attachment, screening grid, parking legs, rear flashing lights and work light, N. 2 quick coupling hydraulic pipes and push-button panel to be installed in the cabin, can- bus system.
Optional features
Mandatory road sign "keep left" with arrow, PVC tarpaulin cover, DIN plate for front or rear attachment on the operating machine. Hydraulic block with electro valves (12Volt) and push-button panel.
For further information on the SPR K2 spreader for agricultural tractors and for a custom-made offer do not hesitate to directly contact us or fill the "Contact" form on this page!